How to Buy Bitcoin with Credit Card in the Philippines
In the Philippines, buying bitcoin has become relatively easy because of its spreading awareness and new convenient ways to buy it. One of the most popular ways to purchase bitcoins is through the 7-Eleven Cliqq kiosk, where buyers just need to go to the Cliqq kiosk, press a couple of buttons, pay with cash, and have it sent to their handy crypto wallet of choice.
Looking to buy Bitcoin using Paymaya? Click here.
This article has been modified heavily on September 19, 2018 and had a minor update on May 22, 2019 and May 7, 2020.
But what if there is no 7-Eleven nearby or no means to do a bank transfer? There are other payment methods that you can use. In this article, we will teach you how you can buy bitcoins with a credit or debit card (Visa and Mastercard).
Buy Bitcoin Using Credit/Debit Card in the Philippines
You can buy bitcoins instantly using your credit or debit card. Since buying cryptocurrency this way is convenient and you are not actually spending your "own money" to purchase bitcoins, you have to pay the necessary fees. In addition, the price of bitcoin is highly volatile. This means that its value may go up or down anytime. BitPinas offers this article for informational purposes only and is not liable if you lose money on the activity.
Buy Using Credit Card/Debit Card in PDAX
Philippine Digital Asset Exchange (PDAX) is a licensed local exchange in the Philippines. They currently allow buying bitcoin through credit cards under Visa and JCB.
How to buy Bitcoin Through Credit Card in PDAX
Log-in to PDAX and go to your funds
Choose "Payment In"
Select PHP and then click "Cash In"
Choose "Credit or Debit Card".

Add "bitpinas" as a referral code to get Php 20 pesos cashback!

A transaction message will be generated
Go to your email and find the message from PDAX
You will be directed to a payment portal where you will input your details.
A system-generated email notification will be sent to confirm your cash in.
Buy Bitcoin through Credit Card in Binance
Binance is one of the most liquid exchanges in the world. The option to buy there using credit card is on the main page.
Credit/Debit Card Bitcoin Exchanges
These type of bitcoin exchanges are cryptocurrency brokers. This means that they are like money changers where they change your fiat to crypto. These types of cryptocurrency exchanges set their own price based on the market price and then add their fee.
Changelly
Changelly has been in the cryptocurrency exchange business since 2013. It has over 100 altcoins that you can exchange and will let you buy bitcoin with a credit card/debit card. Transactions using Changelly is easy and quick as it can only take 10-30 minutes.
You can purchase your BTC using Changelly by clicking the link below, then once on the page, click on Buy Bitcoin with Credit Card. Have your bitcoin wallet address ready and choose as to whether you want to purchase BTC using USD or EUR. Put the amount of USD or amount of BTC you want to purchase, provide your valid bitcoin address and click on Continue. Input your credit card details and continue on the steps to purchase your BTC using your credit card. Make sure to test it out with small and comfortable amount first.
Buy bitcoin using Changelly!
Cex.io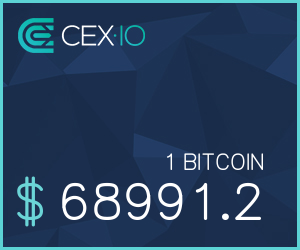 Cex.io, same as Changelly also offers buying BTC using credit card payments. The difference here is aside from accepting USD and EUR, it also accepts GBP (British Pound) and RUB (Russian Rubble).
Cex.io Fees
Cryptos that You can Purchase
Bitcoin (BTC)
Ethereum (ETH)
Bitcoin Cash (BCH)
Bitcoin Gold (BTG)
Dash (DASH)
Ripple (XRP)
Stellar (XLM)
Zcash (ZEC)
Buy Bitcoin, Ether, or Bitcoin Cash at Cex.io from this link!
Coinmama
Note: Coinmama is not recommended anymore. Please proceed to the next option in this article.
Coinmama offers different cryptocurrencies aside from the usual bitcoin and ethereum. It accepts USD and EUR for credit card payments.
Coinmama Fees
Other Cryptos that You can Purchase
Bitcoin (BTC)
Bitcoin Cash (BCH)
Ethereum (ETH)
Ethereum Classic (ETC)
Ripple (XRP)
Litecoin (LTC)
Cardano (ADA)
Qtum (QTUM)
Paxful
Paxful has a number of options to purchase bitcoin and other cryptocurrencies.
FAQs in Buying Bitcoin using Credit Card
Why is there a charge when using a credit card?
We think this is because 1) cc charges are reversible 2) it takes a certain number of days before the money is paid to the merchant. Perhaps to compensate for the time lost, they charge a higher fee.
What is the main advantage of buying using a credit card?
It is probably the fastest way (after getting verified by the site) compared to bitcoin exchanges. Also, if you have already shopped online, then the idea of buying something using a credit card online will not be foreign to you.
[blogcard url="https://bitpinas.com/jobs/bitcoin-jobs-philippines/"]
Buy bitcoin with a stolen credit card?
Nice try, but don't do that. It is illegal.
Can I buy bitcoin with a credit card anonymously?
It isn't possible. Your credit card has your personal details.
What about prepaid card for bitcoin?
Purchase using credit or debit card?
Sites like PDAX and Binance have the option to buy btc with credit or debit card.
Should I buy bitcoin using debit card? 
As mentioned, that's entirely possible, but most of the time, the above websites only allow credit cards.
Where can I keep my bitcoin after payment?
Many options have their own bitcoin wallets.
Should I worry about the exchange rate?
You need to think in USD every time you do this option. When you purchase using your Philippine credit card or debit card, it will use the USD or the fiat currency you chose.
Overall
Purchasing bitcoins or other cryptocurrency using a credit card or debit card is easy as long as you know which trusted site to visit. Since you will be using your credit card or debit card that has a direct access to your funds, make sure that the site you're visiting is official and secure. If its the first time that you will buy BTC or altcoins, test it out with small amounts first.